In our prayers for you we always thank God, the Father of our Lord Jesus Christ, for we have heard of your faith in Christ Jesus and of the love that you have for all the saints, because of the hope laid up for you in heaven. Colossians 1:3-5a NRSV
I imagine many of us can testify to hearing someone ask us, "Have you heard about….?" Too often, I confess, I have fallen into the temptation of listening to someone share some sort of gossip or second-hand news about so-and-so. Too often, the conversations trend on what so-and-so did or didn't do. Too often, there's a lack of building up so-and-so.
Not so with Paul. Paul comes out of the gate in Colossians 1 with an encouraging word. A word that highlights the faith of the people of Colossae. A word that points to Jesus. A word that is worth repeating.
When I received a text from Pastor Larris Tolson early on the morning of June 23, my heart sank when I saw his words on my phone: "Hello David, just wanted to let you know that Siloam UMC was severely damaged by fire…" Lord, in your mercy. Thankfully, as local firefighters and law enforcement responded quickly, nobody was injured and the fire was brought under control. Daylight would come a few hours later, and the devastation to this historic church was overwhelming.
Three days later, Siloam and Jamesville UMC, gathered together under the pines, across the road from the charred remains of Siloam's fellowship hall and wounded sanctuary.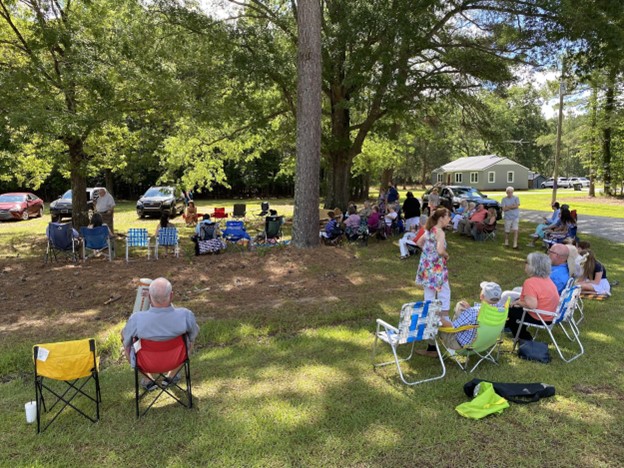 Pastor Larris led a prayer service for all the faithful who gathered here, naming the hurt so many had that morning upon their hearts. Scriptures of faith, hope, and love were spoken by the pastor, as he reminded us of God's faithfulness, in such a time as this.
There was a significant contrast between the ashes of one side of the road and the light of the other. Colorful summer clothes, children quietly playing on a blanket, and encouraging words being shared between all under the pines expressed the incredible faith of a resilient people. Smiles of hope soaked up the tears that Sunday morning, as folks spoke about making plans for Sunday school to keep happening, as the children needed to learn about Jesus.
So many times in our daily walk, we hear about the faith of others, we see the faith of others on display, and sometimes we are blessed to experience the faith of others nearby. This is the stuff we need to be sharing. This is the stuff Paul is speaking about in his words from Colossians. This is the stuff worth repeating, for when we speak of someone's faith, we give glory to God.
Can't wait to hear about your faith in Christ Jesus,


David
---
P.S. The Beacon District Anti-Racism Team invites you to their first Thirsty Third Thursday at Waterfront Park in Elizabeth City on
July 21 at 7pm. BYOB and a lawn chair.
Join us for good conversation while taking in a beautiful view along the Pasquotank River.